A path veers off the road to 'Top Station View Point' and descends gradually towards Drizzle Drops. We are at the edge of the Western Ghat mountains, surrounded by towering peaks that descend to low hills and a gap that looks out at the plains in the distance below.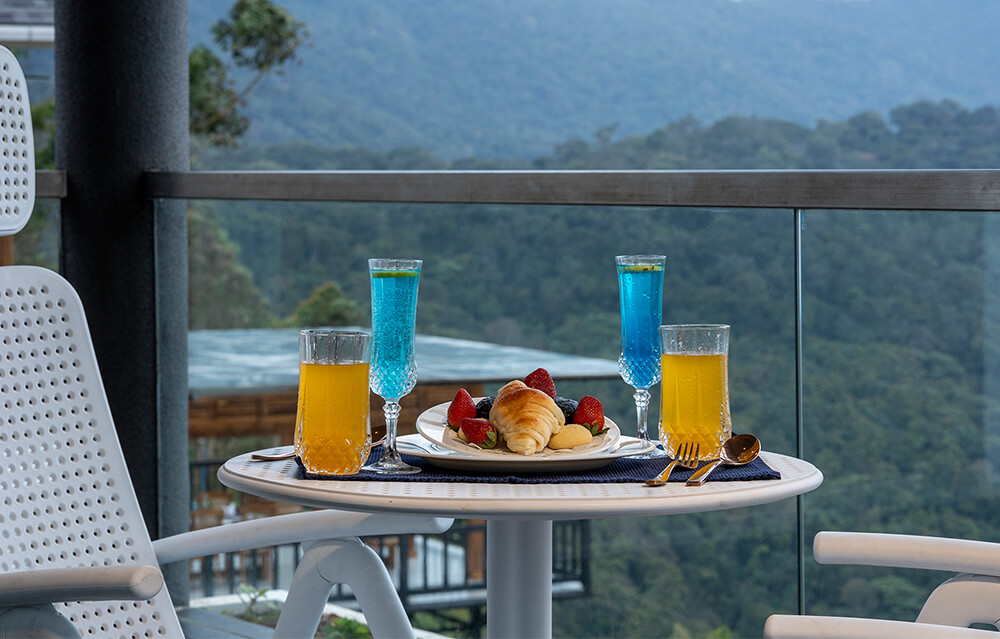 Guests are welcomed at a lobby with splendid views. Encased in glass, the complement of accommodations on offer at Drizzle Drops are set along a hill slope, arrayed on two floors, in three blocks – ranging from opulent luxury suites and premium deluxe rooms, fringed by rows of colourful flowers. A block also contains the resort's fitness centre situated adjacent to a spa. Moving further, a heated infinity pool and deck with spectacular views of the surrounding mountains is situated between adjacent blocks of rooms.
At one end of the property an amphitheater set against a sculpted mural and waterfall offers guests space to stage small outdoor events. The resort's multi –cuisine restaurant consists of an area open to the air and looking out at the mountains and another indoor, situated between the lobby and array of accommodations.
Here, nature is your muse, the wilderness your companion. The air is pristine and the forests lush. Eternity in a drizzle drop.